Introduction
Hey guys!
We're here for as usual for our third content update for Skyblock Cloud. Payouts will be taken tomorrow at 6 PM EST as a reminder for those competing. Additionally, Factions Moon releases tomorrow at 3 PM EST! Read more about the reset at
https://vortexpvp.com/moon
.
Update Details
With this update, we're introducing a new enchantment tier for the Toxic enchant, introducing the delivery man, and upgrading several island specific features, alongside the usual bug fixes.
Galactic Rank
The global, Galactic rank has been added to our Store. You can either buy this rank standalone, or upgrade to it if you hold one of the top ranks on either Skyblock or Factions (Cloud or Moon rank). This rank will give you perks on all three servers (Skyblock, Factions, and Prison) as well as any future servers we decide to do. Additionally, you'll have access to a special kit on each server and several global perks you can view in the rank description.
The Galactic rank gets exclusive cosmetics, commands, boosters, and kits. We're going to also be adding new kits and features to this rank overtime, as it is going to be the last time we revisit ranks for a while. Factions ranks are also now available for purchase in addition to any tools, keys, or commands you may want for the upcoming reset.
You can find the Galactic rank in the Global section of our store.
Ban Reset
In preparation for our upcoming reset of Factions Moon, we've removed all bans apart from chargebacks and DDoS related ones. This is a second chance for some of you, don't make the same mistakes again. We won't be doing these ban resets often, and our staff will be monitoring any players that have a reputation to cause trouble.
Cannon Planet
The cannon planet has opened, and is now accessible through the hub server. We've made the following changes on the cannon planet:
Added /fire
Put protection blocks and commands in a hologram
Added checkerboard plots
If you have any other suggestions or feature requests for the cannon planet, let us know!

Delivery Man
Want free stuff? Sync your Discord with your in-game account through /syncdiscord and you'll automatically gain access to the Delivery Man. You can visit the Delivery Man at spawn or type /deliveryman to access his menu. Based on your rank, you'll be able to access certain packages marked as UNLOCKED or ON COOLDOWN. Hover over the paper in the menu in order to view the potential rewards.
Clicking on any unlocked package will give you the chance to win one of the items listed on the paper. This is an added bonus for our donators, who will be able to use the package specific to their rank AND all lower ranks. Default members can also take advantage of this system by syncing their Discord account. You can redeem a reward every week.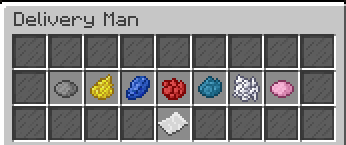 ​
Toxic Enchantment
Last week, we introduced the toxic enchantment in conjunction with our new cosmetics system. For those that don't recall, here's the description:
A brand new PvP enchantment has arrived for those hardcore warriors. We're introducing a new legendary enchantment called Toxic, with two tiers. When equipped on a weapon, the person killed by that weapon will have a chance to have a Skull Emoji Spray displayed in front of them as a taunt. Additionally, coming next week, anyone with this enchantment will also receive a death sign from the player they killed, marking that you killed them, the date, and how they died, which can be placed on your island as a boast. The chances are as follows:

Tier 1 - 0.15% chance to launch a taunt

Tier 2 - 0.25% chance to launch a taunt

Tier 3 (Coming Soon) - 0.50% chance to launch a taunt + guaranteed death sign from other player

​
This week, we've added a third level to the enchantment. Killing someone with the Tier 3 Toxic enchantment on your weapon will give you a guaranteed death certificate, which is a note that you can place in an item frame to show off your kill.

Island Alts & Inspect
Three weeks ago, we announced the system of island alts. While this system was on the server for launch, there were several issues with it. We've fixed these up and they're once again completely functional. Here's the descritption from the release post for those not familiar with island alts:
Island Alts
Need to have alts AFK your island while you and your island members are offline? No problem! Introducing Island Alts, a system where you can invite alts to your Island while not having them count as members. You'll be able to manage these as the owner of your island, with options to add them to your island or kick them from your island. They will not show up on /is top or any other leaderboards, and will have certain limitations placed on what they can do as island alts.

​
Additionally, we've also fixed several issues with /is inspect. You can now use this properly to make sure every block on your island is accounted for, monitoring your island members.
Island Inspect & Transaction Log
Don't trust your island members? Type /is inspect and right-click any chest to see detailed logs of who moved what in and out of the chest, at what time, and how much of it they moved. This feature is integral to both staff and players to maintain a safe environment for playing. Additionally, the Island Bank will be getting a new feature called Transaction Logs. Like the name suggests, every transaction will be stored and displayed to check who withdrew or deposited money.

Island Vaults
Island Vaults are a way to share items with your island members safely. You can open your island vault with /is vault open, and upgrade it with /is vault upgrade. By default, you have 9 spaces in your vault. You can upgrade this with cash to as much as 54 slots.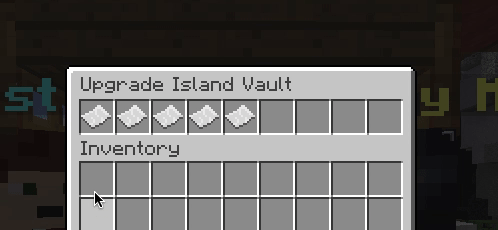 Bug Fixes and Additions
Every week will obviously have a series of bug fixes, with these being the ones in final testing/have been deployed:
Fixed all stacked spawners and block stack issues with losing blocks/spawners that you stack
Fixed /is alt permissions issues
Fixed /is inspect not functioning as expected
Fixed island hopper limit not properly updating on login
Implemented a new YouTube program for interested content creators
Added bold option for title formatting options
Added recurring reminder if you don't have a Discord account synced
Nerfed space coins earned, internal testing resulted in the conclusion that it was way too easy to earn
Added an option to disable your trail in /cosmetics
Reset bans in preperation for the upcoming release
Added new Galactic rank
Added island upgradable vaults
Added Toxic Level 3
Added Delivery Man at spawn and through /deliveryman
Giveaway Winner
In the last post, if you commented you were entered for a chance to win an alien bundle. The winner is
@Vamp
, please create a ticket in Discord with your IGN to receive your winnings.
Conclusion
We'll see you tomorrow at 3 PM EST for the release of Factions Moon, played by F1NNSTER! Stay tuned for content updates, payouts, and so much more coming to Factions, as well as a massive thank you for the continued support on Skyblock Cloud. We're also excited to announce that work on Prison has started, which will be coming to a planet near you very soon!
Best Regards,
Resilience