Introduction
Hey everyone!
Hope all is well, it's been a couple weeks since our last full content update post as opposed to Discord, but we're here with some important updates and quality of life changes on both Skyblock Cloud and Factions Moon!
Update Details
With this update, we're introducing a new monthly crate on Factions, a crate revamp on Skyblock, several space coins changes, an update on jobs, the ability to /rename
Monthly Crates (Moon)
We've updated Factions Moon with the new June monthly crates. Every month, monthly crates with different rewards can be purchased to unlock 8 regular items and 1 bonus item. If you're interested in taking advantage of this, view the rewards below or click here to purchase one for yourself. Monthly Crates have two tiers, with the Tier 2 version having better regular and bonus rewards!
Crates Revamp (Cloud)
We've long noticed that crates aren't popular on Vortex due to the not-so-good rewards available through them. With this update, we've completely revamped the way crates work on Cloud, with plans to expand this to Moon in the near future!
Crates now have three tiers: Crater, Asteroid, and Comet

Voting will give you a Crater key, capturing a KOTH will give you an Asteroid key. As a result, we've removed the Vote and KOTH crates.
Depending on your rank, you will have a set amount of crate re-rolls. Re-rolls mean that if you are not happy with the first reward you win, you can re-roll for a chance to win a better, or worse one. Here is the breakdown for ranks and their respective re-rolls:
Lightning - 1 Re-roll
Thunder - 1 Re-roll
Cyclone - 2 Re-rolls
Storm - 2 Re-rolls
Cloud - 2 Re-rolls
Galactic - 3 Re-rolls

Additionally, we've buffed each of our three new crates. They now offer several new pieces of content as possible winnings, such as Auto Sell Chests, Lucky Blocks, Auto Block Chests, Aliens, Boss Eggs, Monthly Crates, and more! To view the full list of potential rewards, right-click the crate in-game.
Space Coins (Cloud)
With this update, we've added new rewards to the space coins shop. Get space coins by killing mobs, and enhance the chance of winning space coins by putting the Mob Magnet custom enchantment on your weapon. To view the rewards, hop on Cloud and type /spacecoins.

Jobs
One of our newer features, Jobs, which we added with the most recent reset of Cloud, has recieved a significant rewards overhaul. Completing tasks based on the job you select in /jobs will now reward you much better. You can be a Miner, Slayer, Fisherman, Lumberjack, and Farmer, with more jobs on the way soon. Head on to the server and type /jobs to get started!
Click on a job and press "Top Performer" to view the leaderboards of that job. If you're the best performer of that week, you'll win an additional special prize!

​
/rename
All donators now have access to /rename on both Skyblock Cloud and Factions Moon! A long requested feature, you can now give your items whatever name you'd like, with any formatting possible in Minecraft!
Statistics
We've now added a /stats command to view both your personal statistics, and the leaderboards for various events. The following statistics can be viewed using /stats:
Blocks Broken
Blocks Placed
Koths Won
Crates Opened
Envoys Opened
Players Killed
Mobs Killed
If you have any suggestions for additional statistics you want displayed, let us know!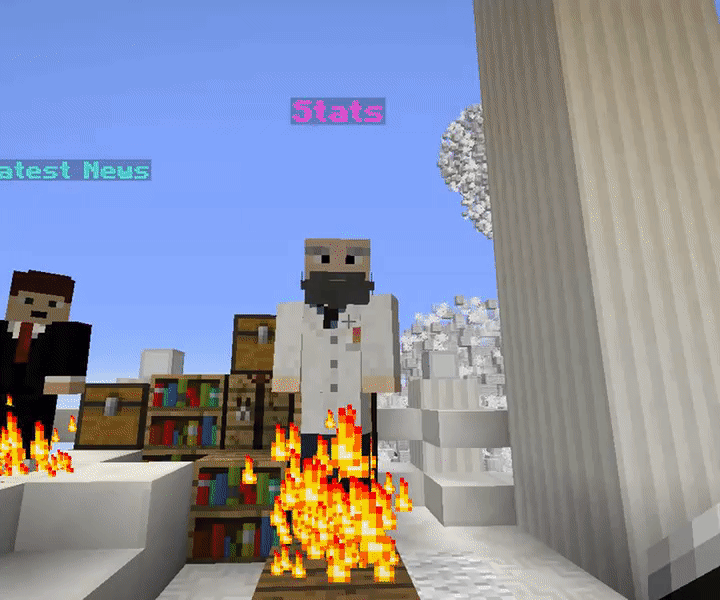 Bug Fixes and Additions
Every week will obviously have a series of bug fixes, with these being the ones in final testing/have been deployed:
Added YouTube applications through our Discord bot
Made quarts sellable on Factions Moon
Fixed minion cosmetics not properly working
Fixed /pets
Added enderpearl cooldown to Skyblock
Added Chat Trivia (and the ability to hide this)
Fixed issues with Discord rank syncing
Fixed the Advertiser NPC on Skyblock
Fixed /tntcraft
Tweaked Discord placement bot with new symbols
Fixed Galactic rank deliveryman rewards
Fixed Level 11 on the Galaxy Pass
Fixed several issues with envoys
Conclusion
We've been working hard on our upcoming resets, and the addition of Prison! More news regarding both of these soon, with our summer roadmap and stream of summer themed content! We can't wait to share the many new features and servers we've been working on.
Best Regards,
Resilience