Hello everyone,
Firstly,
Thank you to everyone who was online for the Arctic launch we hit a combined player count of over 1.2k players across the networks!
The monthly crate for November have now been released! we've added new rewards and removed the less useful items
Monthly Crates - November
Cloud -
https://buy.vortexpvp.com/category/1210251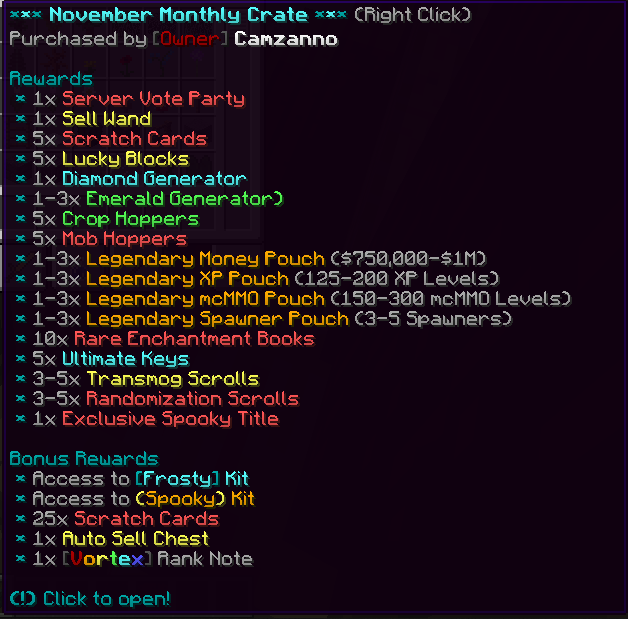 Arctic -
https://buy.vortexpvp.com/category/1210258
October Votes + Raffle Draw
We have decided to bring back the raffle draw for Vortex Rank at the end of every month. Congratulations to the following players for reaching 75 votes this month!
0Nikos
aykaytee
wilsonYTB
Colorified
GeneralPizzaa
STAVROSgreece
xRqbin
Bubba_Zanettie2
A2000
DragonStar1
xPimmie
Bubba_Zanettie
eRBeats
SushiRay
Apeal
LieutenantPizza
ActualPizza
HaroldFinch
RedPwndaa
Cargil
K_Miner99
CookieMonster192
darkipoo
AstralDoggo
Type /mail read in-game to claim your voucher.
Finally, congratulations to "K_Miner99" for winning the raffle draw for vortex rank! Please contact me me on discord @ Cam ツ#9844 to receive your Vortex rank note!
Thank you to everyone who continues to support the server!
If you are not already a member join our discord @
Https://vortexpvp.com/discord
to stay the most up-to date on server events and announcements!