Introduction
Hey everyone,
It's been a long time coming. I'm finally excited to announce the release of our brand new Prison server, Prison Plasma. Throughout the past couple resets of Cloud and Moon, we've been subtly mentioning Prison while working heavily on it behind the scenes. It's time to get into the release details and get on our way towards a successful launch!
As always, we communicate actively with the community on Discord, so make sure to join that to stay up-to-date on everything Vortex related! Let's jump into the reset details...
Prison Plasma releases June 29th, 2019 at...
3 PM EST / 12 PM PST / 8 PM GMT
​
For any other timezones, type "3PM EST" into Google, and the appropriate time will be displayed based on your location.
Server Details
The following information are the basic server details for our upcoming reset. To see new features, keep scrolling until you see the "Features" section.
Prestige Top
Just like Skyblock and Factions, we'll be doing payouts on Prison Plasma. In order to qualify for payouts, it's all about how much you grind. If you're not familiar with how Prison works, you start by ranking up from A -> Free. Once you get to Free, you have the option to Prestige, which gives you a chance to start again, with a new prefix, and higher prices. At the end of each week, the five players with the highest Prestige will win payouts.
All vouchers will now expire the week after they are handed out. You must redeem them towards items on the server you win them on by that next week or they will be useless. The last week of voucher payouts will be active until the start of the new season. We're not entirely sure how long this first map will last yet, however we'll keep you updated through Discord. The payouts will be as follows:
#1 - $105 PayPal + $55 Voucher
#2 - $45 PayPal + $30 Voucher
#3 - $20 PayPal + $20 Voucher
#4 - $15 Voucher
#5 - $10 Voucher​
Features
We're adding several features you know and love from our other two servers, as well as several new additions to make the Prison gameplay as high quality as possible. Read below to find out what you can expect when you login for release:
Cells
Cells are your key to storing items and playing with your friends. When you type /cell, you will get a floating cell (which will get bigger and bigger depending on the donator rank you hold in-game). You can use this cell as you wish to build, decorate, and play with your teammates. Additionally, you'll be able to place private mines at your cell which you can use to get an edge on the crowded public mines. More on that below!
Backpacks
Backpacks are an item each player can use in order to store extra items as they mine. You can upgrade your backpack using tokens (explained below) to upgrade the slots of the backpack. The more slots you upgrade, the more your backpack can store. With your backpack getting bigger, you'll obviously sell more each time, making for a more efficient process.

Mine Bombs
You can purchase Mine Bombs through the Store or with Tokens and use these bombs to blow up large areas of mines in order to quickly clear mines. There are five bombs, with larger sizes as they get more expensive:
Firecracker
TNT
Nuke
Nova
Supernova
Just like backpacks, you can access the Mine Bomb shop through /upgrade.

Pickaxe Enchantments
Using the token shop, you can upgrade the pickaxes you have in your inventory. You can upgrade your pickaxe to be as powerful as possible, with the following enchantments that you can apply to them:
Efficiency - Allows you to break blocks faster
Fortune - Increases your amount of block drops
Explosive - Explodes nearby blocks
Haste - Increases pickaxe swing speed
Speed - Increases movement speed
Night Vision - Gives permanent night vision
Auto Smelt - Automatically smelts ores (giving you a higher sell value)
Hammer - Chance to destroy an entire mine layer
Luck - Chance to spawn Lucky Chests while mining
Omnitool - Automatically switches tool type based on blocks mined
Experience - Increases block EXP drops
Greed - Chance to sell your blocks for 20% more
Token Greed - Chance to find tokens while mining
Space Coins - Chance to find space coins while mining

Lucky Chests
While you're mining, you have a random chance of finding lucky chests. When you find a lucky chest, you, and only you, can right click it to receive a random reward. You can purchase the Luck enchantment on your pickaxe in order to boost the chance of finding these.
The more you mine, the more chests you'll find on your way.
Personal Mines
You can purchase personal mines or win them from crates and monthly crates in order to have your own mine on your Cell. Personal mines will automatically reset just like public mines, as well as matches the sell prices of your current rank.
You'll be able to do all of this from the comfort of your cell, rather than warping to mines each time you rank up and worrying about crowded mines.
Cell Expansions
Cell expansions will expand the size of your cell, just like island expansions from Skyblock. Use this paired with a higher donator rank to get the ultimate Cell started, with a massive area to build in for both decoration and storing items.
Pickaxe Levels
As you mine, your pickaxe levels up with you. When your pickaxe gets to a new level, your pickaxe has a random chance to apply a new enchantment from the token shop or upgrade a current enchantment already on your pickaxe. Use this to save tokens and get your pickaxe as strong as you want.
Your pickaxe name will track your blocks broken, and the lore of the item will display the Level, and Experience of it.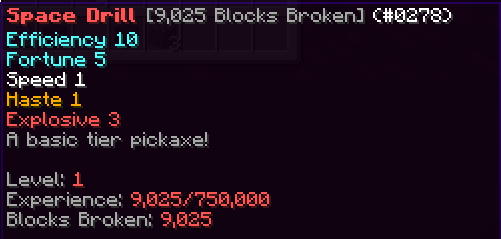 Token Shop
The token shop is the one stop shop for upgrading all of your rare items. You can upgrade or purchase the following through the token shop:
Mine Bombs
Pickaxe Enchantments
Backpack Size
Tokens are harder to find and earn than normal currency, however you can speed this up by opening Token Pouches, or purchasing the Token Greed enchantment for your pickaxe. As always, mining is the key to success.
Token Pouches come in three different rarities, with more tokens being available in the higher tiers:
Token Pouches can be purchased separately on the Store, or found in several different situations with Lucky Chests, Crates, Bosses, Lucky Blocks, and much more.

Galaxy Pass
We're introducing the Galaxy Pass to Prison Plasma, just like Factions and Skyblock (all Galactic rank holders get this completely
FREE
), a challenge system that rewards you each time a daily challenge is completed, as well as final rewards for completing the entire thing. A new challenge is made available everyday, with several challenges available on the first day as well as a new challenge available everyday until the map ends.
Completing the galaxy pass challenges will give you individual rewards, and finishing it completely will give you final, even better rewards. If you purchase the galaxy pass mid-way through the season, you'll have access to all the challenges already unlocked for everyone else in addition to the normal stream of one challenge per day going forward.

A new pass will release every reset with new challenges and rewards. Rewards and types of challenges are subject to change over the course of resets, depending on player feedback. These rewards will include sprays, tags, items, money, and more.
Crates
Crates will work similarly to Skyblock in the sense that they will be completely virtual. There will be three crates just like our other servers, Crater, Asteroid, and Comet.
Depending on your rank, you will have a set amount of crate re-rolls. Re-rolls mean that if you are not happy with the first reward you win, you can re-roll for a chance to win a better, or worse one. Here is the breakdown for ranks and their respective re-rolls:
Neon - 1 Re-roll
Volt - 1 Re-roll
Octane - 2 Re-rolls
Ether - 2 Re-rolls
Plasma - 2 Re-rolls
Galactic - 3 Re-rolls
​
Inventory Pets
Inventory Pets were initially developed for Prison, which we also adapted for our recent Moon launch. As such, they're also making an appearance on Plasma, which is sure to make gameplay a bit more interesting and introduce new types of combat to the server. These pets sit in your inventory, with either Passive or Agressive abilities. Passive abilites will be active as long as the pet is in your inventory, while Agressive abilities are activated by right-clicking the pet.
Pets gain experience as they sit in your inventory for longer periods of time. Experience eventually leads to your pet leveling up. At certain leveling milestones for each pet, you will either unlock a better version of that pet's ability, or you will get a random item (or sometimes BOTH). All pets have a maximum level of 100.
We're excited to expand this system in the future with more pets being introduced in future content updates.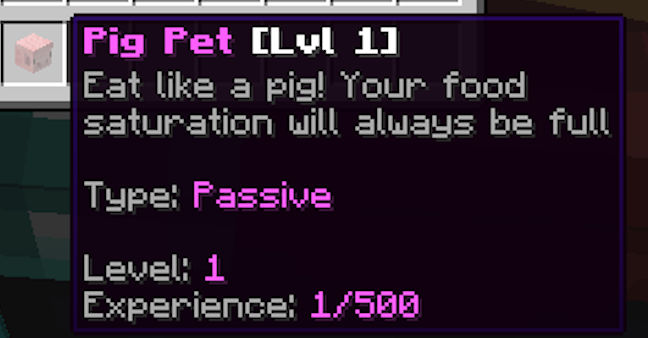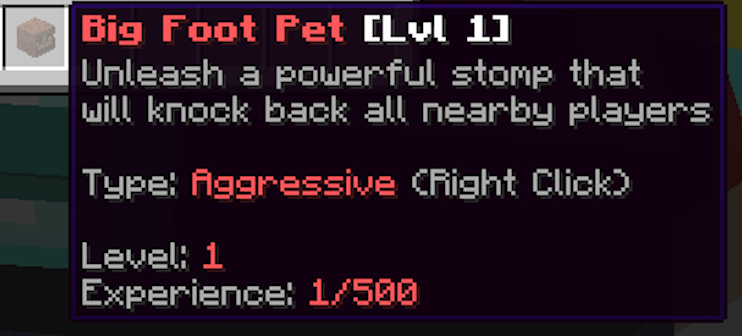 ​
Pets can be found in Monthly Crates, regular Crates, Lucky Blocks, the Store, the Galaxy Pass, and much more.
Mars Hoppers
You can now upgrade your regular hopper to a Mars Hopper, which there are two different tiers to. These hoppers will help you further optimize your farms and grinders.
Epic Tier
Automatically pick up items in that chunk
Transfer items 3x faster
Link the hopper to any chest in your cell by shift right clicking and pressing link chest in the GUI
Ultimate Tier
Automatically pick up items in that chunk
Transfer items 5x faster
Shift right click it to open a GUI where you can select two modes:

Collect: collects it to a linked chest
Sell: automatically sells the items that pass through it
Mining these hoppers will keep them the same tier they were when you upgraded them. You can either upgrade a hopper directly to the Ultimate tier, or go Default -> Epic -> Ultimate.
Space Coins
We're implementing the same space coins discounted prices for donators we've recently added on Cloud and Moon, with the following being the breakdown for donators:
Neon - 5% Discount
Volt - 10% Discount
Octane - 15% Discount
Ether - 20% Discount
Plasma - 25% Discount
Galactic - 30% Discount
Delivery Man
Joining our Discord will give you access to daily, weekly, and monthly rewards. These rewards will be based on your rank, which you can sync to Discord via /syncdiscord. Both members, and rank holders will benefit from this system, which can be used with the /deliveryman command or visiting the NPC at Spawn.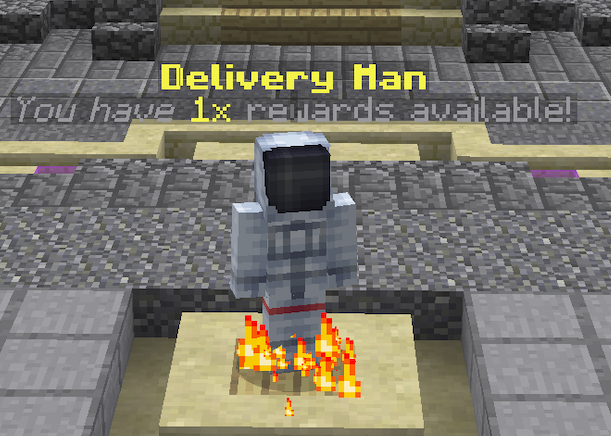 Block Chests

A much requested feature, we're adding auto block chests. These chests, as the name suggests, will convert ingots into blocks when items enter the chest. These will help quickly and automatically make your grinders much more efficient. Clicking on the chest will let you pick it up, check the inventory, and modify permissions for it.
Features (Misc.)
We're adding the following features/content to Plasma in addition to everything mentioned above:
KOTHs, and Outposts
Auctions
Cosmetics
Lucky Blocks
Bosses
Space Coins
Voting
Vote Parties
Envoys
Special Kits
Statistics
/rename
Leaderboards
Crates
Monthly Kit
Auto Sell Chest
+ much more through weekly content updates for you to discover
Conclusion
Let's have a great release! This is the final server we're been waiting to add for Vortex with this series of resets for so long. We hope you enjoy this server as much as we enjoyed making it, Prison is truly a great gamemode to play and grind. Let's see who's going to be the highest on the leaderboards by the end of it, see you soon.
Best Regards,
Resilience
Last edited by a moderator: