Introduction
Hey everyone,
Today's an exciting day! We're releasing our first content update to Skyblock Cloud, the first of many to come over the course of the next couple weeks. As a reminder, island top payouts will be taken tomorrow on Saturday, May 4th. Check your standings with /is top, and try to dominate the competition! Best of luck.
We'll be announcing the winners on our Discord server, which will be receiving an upgrade in today's content update to facilitate future payouts. More on that below.
Update Details
Today's update, as mentioned in the title, focuses on a new currency, a Discord upgrade, and two new items available on our Store.
May Monthly Crate
Just like every month prior, we're introducing a new Tier 1 and Tier 2 May Monthly Crate. This features most of the rewards you know and love, alongside some new exclusive items only available this month. The rewards for both crates can be seen below, or on our store: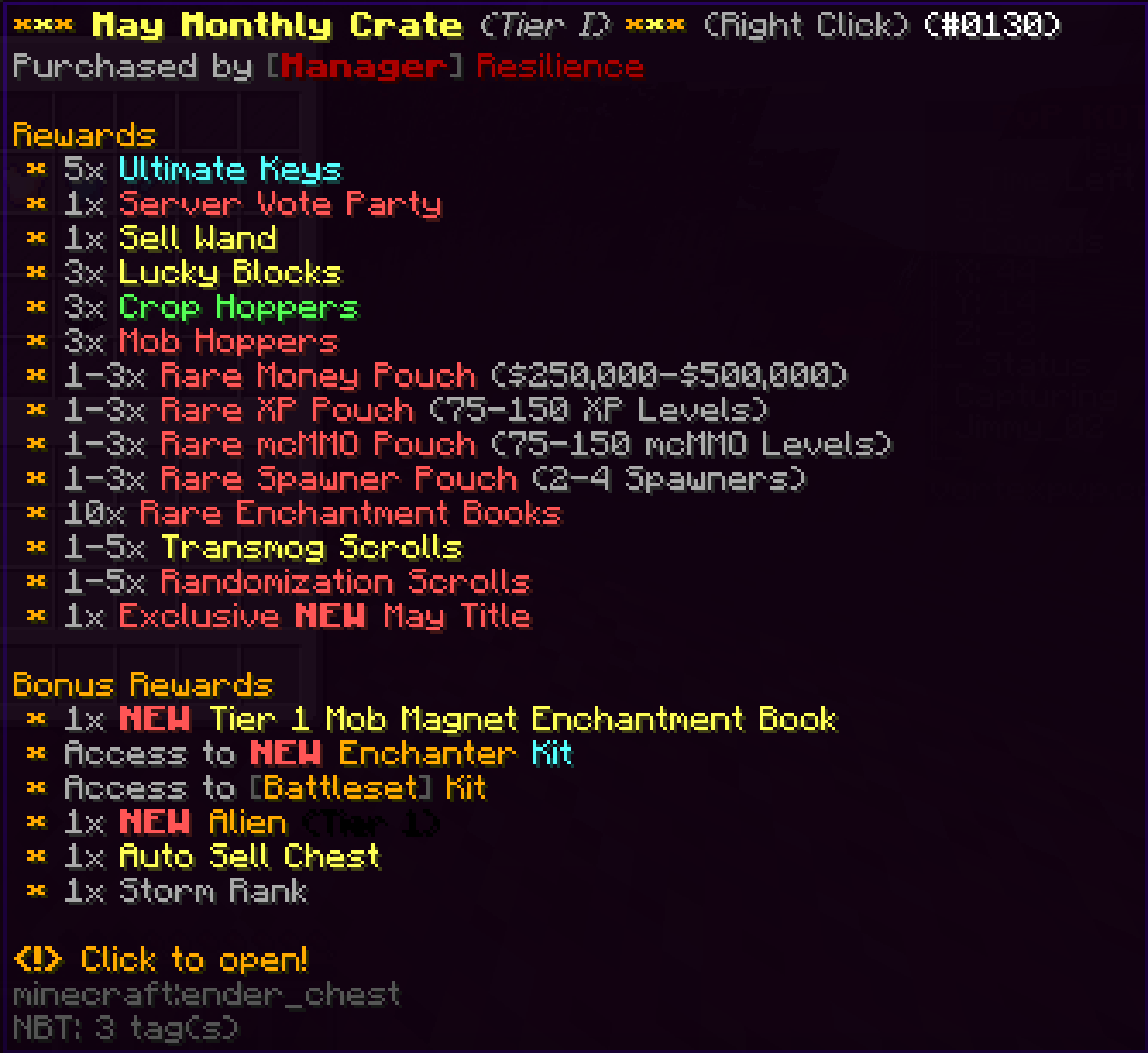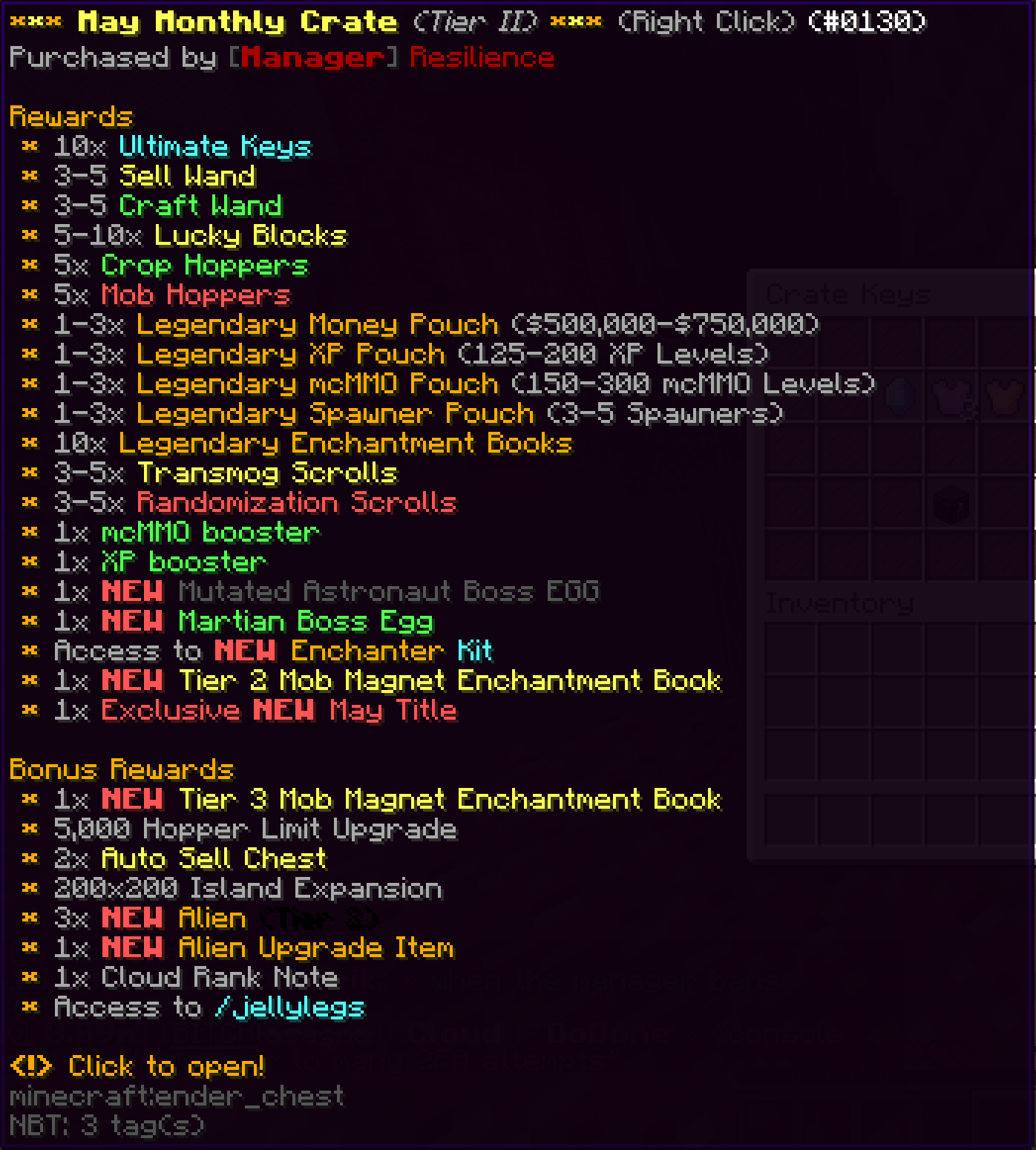 ​
May Monthly Kit
A new addition to the server, we're going to be releasing monthly kits focussed on different aspects on the server, only available in this case for the month of May. Despite only being able to purchase it in the month of May, you'll have access to it for a lifetime. This month's kit will give you the following rewards:
Protection 5, Unbreaking 4 Armor
Sharpness 5, Looting 2, Fire Aspect 2 Sword
Efficiency 5, Fortune 3, Unbreaking 4 Tools
Power 5, Infinity 1, Flame 1 Bow
Random Chance Mob Magnet Tier 1 Book
Random Chance Mob Magnet Tier 2 Book
Sell Wand
5x Ultimate Crate Keys
7 Day Cooldown
Space Coins
Our take on the popular Mob Coins feature many other Skyblock servers have introduced, we're bringing Space Coins to Vortex. A new form of currency on Skyblock, this feature will bring a whole new depth to mob grinding. Killing mobs will give you a chance to win coins, which can then be used to redeem exclusive, sometimes store-only items or perks in our space coins store.
When a space coin is dropped, you will get a sunflower in your inventory. This sunflower can be right-clicked, to update your virtual balance in the space coins store. In the future, we'll be adding more ways to increase the chances of winning space coins.
The space coin store will be receiving frequent updates, with certain items being there for a limited time, with others lasting forever. You can access the store by typing /spacecoins.
Mob Magnet Enchantment
With the introduction of Space Coins, we're also adding a new custom enchantment called Mob Magnet. Mob Magnet can be used on Swords, Axes, and Bows to increase the chances of dropping space coins. This enchantment will be available exclusively in the Tier 2 Monthly Crate, and May Monthly Kit. We're introducing three tiers of this new legendary enchantment with this update, with the rates subject to change after player testing:
Tier 1 - 1.25x higher chance of winning space coins
Tier 2 - 1.50x higher chance of winning space coins
Tier 3 - 1.75x higher chance of winning space coins
Discord Improvements
With this week's content update, we're introducing a new bot! This bot will facilitate many new integrations with the server, alongside more ways to interact with the community.
For starters, we're adding a channel that will update members of island top placements ever hour. This will also apply to factions top when factions is released, and will be upgraded over the next couple of weeks to also display payment status, detailed valuables information, and more.
In a look to the future, this bot will also be used as our new platform for staff applications, which will be completely automated and much easier to use. We look forward to turning this bot into an integral part of the server, with many more features on the way. Stay tuned in future content updates for news on this.
Bug Fixes and Additions
Every week will obviously have a series of bug fixes, with these being the ones in final testing/have been deployed:
Fixed an issue with envoys spawning incorrectly
Fixed an issue where /anvil was not working properly for the donators with that perk
Re-did the donation effects / broadcast when someone donates to the server
Fixed an issue where /marry was not functioning as intended
Added Boss health to island members action bar
Fixed an issue where /marry was not showing up in chat as an icon
Improved /is upgrade GUI with better icons to represent upgrades
Fixed an issue with sell wands allowing others to use them on your island
Fixed an issue with sell wands and craft wands not granting proper amounts of uses
Added /support - Explains how to open a ticket in Discord for quick help
Fixed an issue where /nightvision was not working as intended
Fixed an issue where certain players had issues upgrading their island
Added several effects when a key-all is happening
Fixed an issue where valuable blocks being placed on islands randomly disappeared
Fixed several issues with the /is mission GUI
Added a patch to prevent sugarcane from automatically breaking in chunks and being pushed by pistons
Added Mob Magnet Enchantment with three levels of rarity
Added new Discord bot to the Discord
Crate overhaul with three new tiers
Space coin functionality (/spacecoins)
Added May Monthly Crate and May Monthly Kit to store
Combined certain store categories to make the store easier to use

Merged Hopper Upgrades and Island Upgrades
Merged Items, Pouches, Scrolls, and Lucky Blocks
Conclusion
We're working extremely hard to bring you constant updates, as well as new gamemodes, perks, and more. We can't wait for future content updates that bring a whole new level of gameplay for Vortex, on both Skyblock and Factions. We'll be providing updates about Factions Comet in the very near future, I hope you guys are as excited as me for this next season of Factions. Good luck to all the island and faction leaders that are/will be competing for our prizes, Vortex is doing exceptional and we're going to keep growing from here.
Best Regards,
Resilience